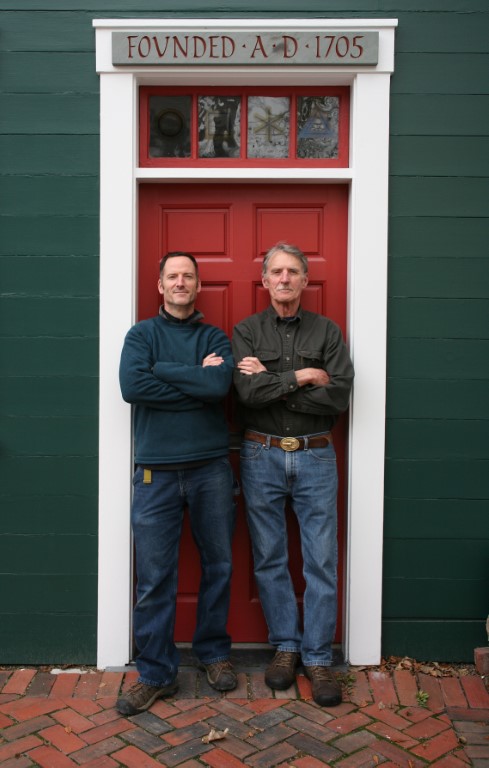 The John Stevens Shop specializes in the design and execution of one of a kind inscriptions in stone. Our architectural and memorial lettering is generated by hand with a broad edged brush in the manner of the great Roman inscriptions. Refined and developed for centuries this standard is based on the practiced work of hand and eye directed by a keen grasp of form and aesthetics. Letters are carved by hand in a broad range of materials with hammers, mallets and chisels. Through these methods graphic and calligraphic designs can be given true sculptural form. The application of computer science is also used in our work in the design and execution of custom graphics and typefaces required by contemporary production methods.
NICK BENSON | Owner and Creative Director
Nicholas Waite Benson began working at the John Stevens Shop at fifteen under his father, John Everett Benson. By the age of eighteen he was carving commissioned work from his father's designs. He attended the State University of New York at Purchase in 1986 to study Drawing and Design. In 1987 he began an intensive year of study in Basel Switzerland at the Kunstgeweberschule, Schule fur Gestaltung under the tutelage of Andre Gurtler, Christian Mengelt and Armin Hofmann. He returned to the U.S. in 1988 and continued to work under John Benson. On John's retirement in 1993 Nicholas took over as owner and creative director of the John Stevens Shop where he continues to work to the high standards set by his predecessors.
John Everett Benson began working for his father, John Howard Benson, at the age of fifteen. He studied sculpture at the Rhode Island School of Design and upon graduation returned to the shop to work full time as a stone carver. In 1964 he was commissioned to design and carve the inscriptions for the John F. Kennedy Memorial in Arlington National Cemetery. He also carved gravestones for Tennessee Williams, Lillian Hellman, and George Balanchine. Over the next several years he became increasingly involved in the relationship between architecture and lettering, designing and executing exterior and interior inscriptions for the Prudential Center in Boston, the Boston Public Library, the National Gallery of Art, the Dallas Museum of Art, the Chicago Mercantile Exchange Center and the Armand Hammer Museum of Art in Los Angeles. His lettering graces the date stones of the Viet Nam Memorial in Washington, DC, the Civil Rights Memorial in Montgomery, Alabama, the Franklin Delano Roosevelt Memorial in Washington, DC and the Federal Courthouse in Boston. Since turning over the management of the John Stevens Shop to his son, Nicholas Benson, John Benson has returned full time to the practice of sculpture. He is currently doing portrait and figurative work in clay and bronze at his studio in Newport, Rhode Island.